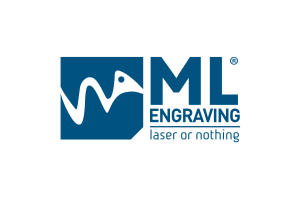 ML Engraving
SME from Italy - www.mlengraving.com
Robotic system for surface texturing of mould tool (pilot line 1)
ML Engraving is an Italian Company that works with laser technology. 20 years of know-how make ML Engraving one of the maximum experts in the application of laser technology in mould engraving.
The treatment of a metallic surface with laser engraving allows to create patterns of any kind: geometric, artistic, holographic for aesthetic purposes, but most importantly functional patters in order to solve specific problems, such as anti-slipping effects, friction management, bonding effects and so on.
This is the reason why ML Engraving is part of the MouldTex consortium: its expertise in laser engraving is an absolute advantage to develop our goals. ML Engraving provides a complete package of digital services, laser engraving techniques and an R&D Department that is dedicated to find specific solutions of technical problems.
ML Engraving workflow is based on a digital process called D.R.E – Design Rendering Engineering that allows to keep every step under control: from the design of the texture to the mapping on the cad file of the mould to the final engraving. The D.R.E collects:
Design: the digital design of the texture is made by the Texture Factory, a team of professional digital artists and designers that create textures starting from the requests of the customers. Sketches, reverse engineering of a physical sample, brainstorming and inspiration can be used in order to define the perfect tayolered texture.
Rendering: the creation of a 3D rendering is the crucial and most important step. Not only allows the rendering to have a preview of the final output, but also it already contains the instructions for the engraving. In other words, it isn't a simple visual render, but an executable one. If approved, it can be processed.
Engineering: Engineering sums up all the engraving techniques that ML Engraving can adopt in order to perform the engraving: 2D, 3D, hybrid-technique, multi-layer and so on. It also collects all the instruments for R&D tests, measurement systems and quality control.